Children's Ministry
Sundays
Sunday School - 9:30am-10:15am
Toddler Church (Preschool) - 10:30am during Morning Service in Nursery/Toddler Room
Kingdom Kids (K-5th) - dismissed during Morning Service
Wednesdays
AWANA Clubs (K-5th) - 6-8pm (WE WILL START AGAIN IN SEPTEMBER 2021)
..............................................................................................................
Sunday School
w/ Amy Ott - Sparks Room (K-5th Grade) 9:30am-10:15am
Lesson: The Big Picture: Understanding the Bible as a Unified Story that Leads to Jesus.
Kingdom Kids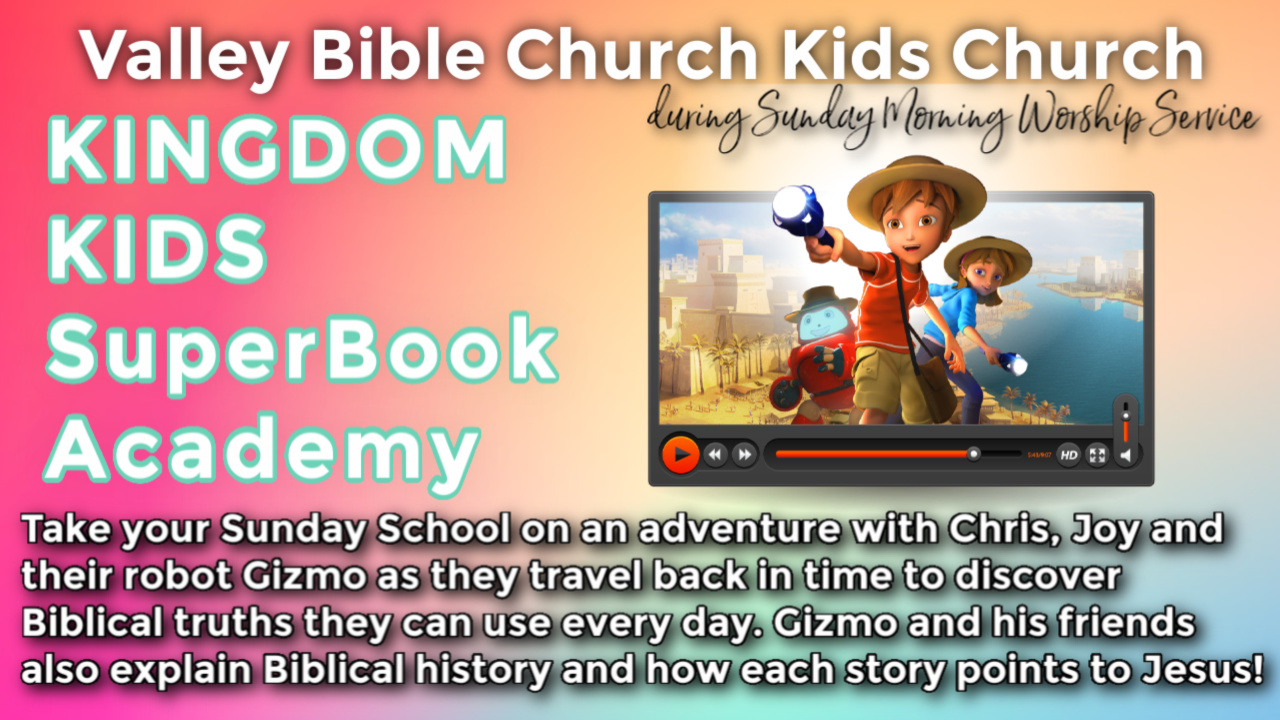 Lesson: Elijah and the Widow
Sunday, July 4 - Part #1
Sunday, July 11 - Part #2
Phoebe sends Chris out shopping for a list of items that she wants him to pick up at many different specialty shops. When Chris secretly decides he knows better and can get everything in a "one-stop-shop," Superbook whisks the kids away. They spend time with Elijah in Cherith's Ravine and travel with him to Zarephath.
SHARE WITH OTHERS
SuperTruth: I will share what I have with others.
SuperVerse: "Give, and you will receive. Your gift will return to you in full—pressed down, shaken together to make room for more, running over, and poured into your lap." Luke 6:38a (NLT)


Lesson: Naaman and the Servant Girl
Sunday, July 18 - Part #1
Sunday, July 25 - Part #2
As the organizer of a food drive, Joy gets upset when no one will work the busiest shift. She is too important to serve—isn't she? Superbook takes Joy, Chris and Gizmo to meet Naaman, a proud Syrian commander who suffers from leprosy. See how a lowly Israelite servant girl offers him hope, and witness Elisha's mysterious instructions. The children learn the importance of being humble
LEARN TO BE HUMBLE
SuperTruth: I will learn to be humble at all times.
SuperVerse: As the Scriptures say, "God opposes the proud but gives grace to the humble." James 4:6b (NLT)



AWANA Clubs
WE WILL START AGAIN IN SEPTEMBER 2021!

Please complete the 2020-2021 AWANA Registration Form for each clubber.
Please follow our Safety Guidelines for this year due to the COVID pandemic.
Pick up your copy of the AWANA Clubs Booklet 2020-2021 in the office.