Children's Ministry
Sundays
Sunday School - 9:30am-10:15am
Kingdom Kids (K-5th) - dismissed during Morning Service
Wednesdays
AWANA Clubs (K-5th) - 6-8pm
..............................................................................................................


Sunday School
w/ Amy Ott - Sparks Room
Lesson: 13 Very Amazing Animals and How God Used Them
Kingdom Kids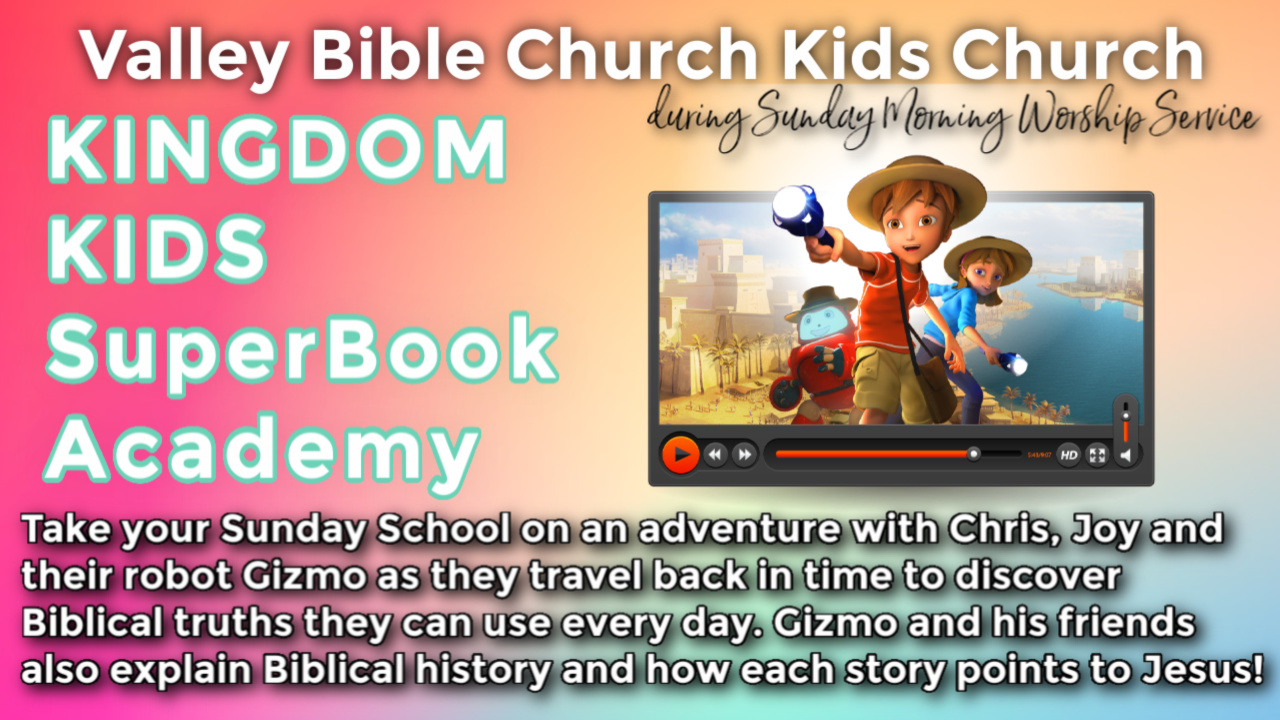 Tired of following the park rules, Chris leads Joy and Gizmo into a dangerous cave—where they get lost! Superbook transports them to the Sinai Desert, where they meet Moses, Aaron, and the Israelites. Witness the wonder as God gives the Ten Commandments, see the disastrous consequences when people disobey His laws, and discover His unfailing mercy and love. The children learn that God gives His people rules for their own protection and happiness!
Lesson: Love Others
SuperTruth: I will love others.
SuperVerse: "You shall love your neighbor as yourself." Leviticus 19:18b (nkjv)
Bible Story: Exodus 16, 19–20, 24, 31–32, 34
ADVENT SUNDAYS
SuperTruth: We can have hope because of God's promises.
SuperVerse: The people who walk in darkness will see a great light. For those who live in a land of deep darkness, a light will shine.
Isaiah 9:2 NLT
2nd Advent - December 6th - Faith: The Bethlehem Candle
SuperTruth: We can have faith because God keeps His promises.
SuperVerse: "But you, O Bethlehem Ephrathah, are only a small village among all the people of Judah. Yet a ruler of Israel, whose origins are in the distant past, will come from you on My behalf."
Micah 5:2 NLT


3rd Advent - December 13th - Joy: The Shepherds' Candle
SuperTruth: We can have joy knowing that the gift of God is for everyone, rich or poor.
SuperVerse: But the angel reassured them. "Don't be afraid!" he said. "I bring you good news that will bring great joy to all people. The Savior—yes, the Messiah, the Lord—has been born today in Bethlehem, the city of David!"
Luke 2:10–11 NLT


4th Advent - December 20th - Peace: The Angels' Candle
SuperTruth: Jesus is our Prince of Peace.
SuperVerse: "Wonderful Counselor, Mighty God, Everlasting Father, Prince of Peace." After he told them, the angel was joined by a huge number of other angels, who were praising God and saying, "Glory to God in highest heaven, and peace on earth to those with whom God is pleased."
Luke 2:13–14 NLT
AWANA Clubs

Please complete the 2020-2021 AWANA Registration Form for each clubber.
Please follow our Safety Guidelines for this year due to the COVID pandemic.